It is good? Worth to buy? What do people think about this? Pros and cons! Review 2022.
Malwarebytes Antivirus: The Company
When we think of software companies, we have thousands of them writing code and thinking of solutions to our problems. The playbook is the same when we think about antivirus , VPN, etc. Everyone always working on new problems. Our review of Malwarebytes stands out in this regard. The company is not usually very active with its updates, which is quite interesting.
You can install the Malwarebytes antivirus program for free and try the premium version for 14 days. When expired, you are left without a number of functions and will only be able to clean up existing issues. No upgrade.
Malwarebytes Antivirus: pricing and plans
Yes, to know if Malwarebytes antivirus is really good , we need to get its packages and see if they are really worth it. Something interesting to see here is that prices can be seen in Reais, something much better for Brazilians. As always, the packages cover different needs of different audiences, some even involve VPN. We will see:
Premium 1 device : here you stay protected and can fight threats in real time with always-on software. It even eliminates ransomware, defends against malicious websites and is able to handle cleaning and removing malware very well. Value of R$40.00 per year.
Premium 5 devices : here we have the same features for just one device. The difference is only in the number of devices that can use the device: 5. The annual value of this plan is interesting, R$78.96 per year.
Premium + Privacy: Whenever we have the "privacy" version of something, it's worth seeing what it looks like. This plan shows that Malwarebytes is good even for some people, as it allows the use of five devices, with all the benefits already mentioned, plus a VPN. For you who are new here, know that a VPN improves your online privacy, adds encryption to your connection and even makes your IP address flexible, allowing you to access services from different countries. The value is R$300.00 per year.
Summary table: Malwarebytes Antivirus
| RESOURCES | VALUE |
| --- | --- |
| Available Versions | Premium, Premium + Privacy |
| Multi Login | 1-5 Devices |
| Supported Devices | WindowsmacOSAndroidiOSChrome |
| Money Back Guarantee? | 60 days |
| Initial value | $39.99 ($3.33 Per Month) |
| Free trial? | Yes |
Security: It really works
Using antivirus is serious business and Malwarebytes antivirus is a great alternative to protect yourself against web threats. As you saw above, it works on top of what matters, blocking unwanted or suspicious files. Is he the best on the market? Is not. For me Malwarebytes antivirus is good when we consider its price. In this he does very well. And we even have a VPN.
Using a VPN is the icing on the cake , as this set will allow you to have a much more comfortable online life. Even if something goes through the VPN , it will be discovered by the antivirus .
Malwarebytes Antivirus: Features
Web protection : there are many websites that are made for the user to enter information such as CPF, credit card number, etc. Malwarebytes antivirus is good here as it ends up blocking unofficial websites. The work is no longer ours (checking a link that arrives by email) and becomes the software's, which pays attention to the links that appear on our screen.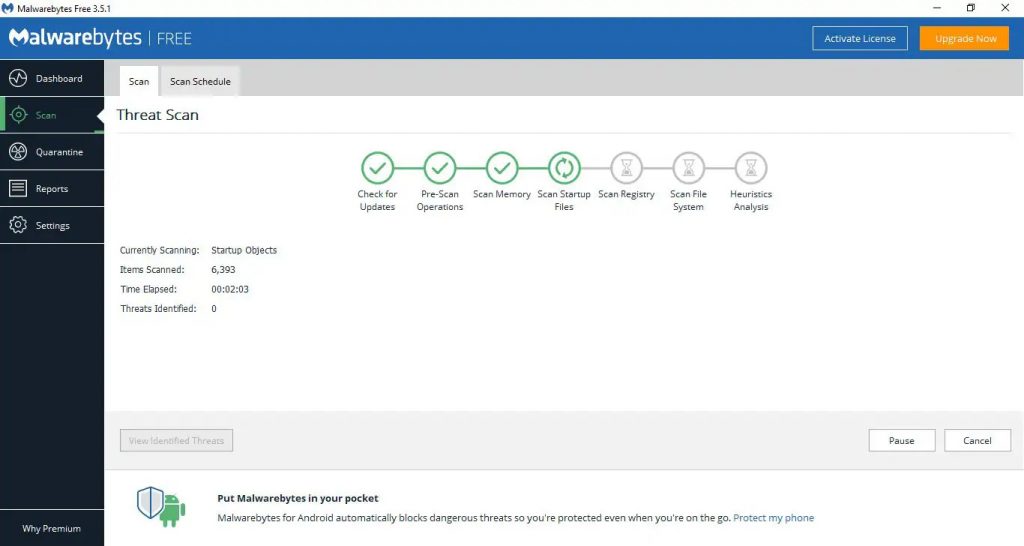 I myself decided to click on some suspicious links and I could prove it: it blocked the pages.
Malware Protection : Protection against this type of pest showed me that Malwarebytes antivirus is good and really works as promised. Real-time protection isn't nearly as efficient as Norton 360's, but for the price we paid for Malwarebytes antivirus , I think it's a great job.
Ransomware protection: This is one of the most feared attacks on the internet. Your device is encrypted, which prevents you from accessing your own files. This only happens again if you pay a ransom to the crook. The app scans all the files that enter your machine and compares them with a database. It notifies you immediately, allowing you to prevent the file from downloading. This function is unavailable on Mac due to a positive feature of the system itself.
Exploit Blocking : Exploit occurs when a program is compromised and ends up downloading files from the internet. Files often harmful or suspicious. Malwarebytes antivirus protection works as a shield (and similar to its anti-malware function), preventing this type of file from being downloaded by your device.
Performance
When we install Malwarebytes antivirus we have to make a choice: we want to try the free version or the one that has 14 days free. Make your choice.
The process of looking for malware and viruses is the same as usual. You choose folders or ask the program to do a complete search. As always, the program will depend directly on the capacity of your machine, however, comparing whether Malwarebytes antivirus is good in this aspect compared to competitors, I can say that it did very well.
One thing that made me a little intrigued was that it left a program behind – compared to another antivirus. When I went to analyze it, I realized that it is not a malicious file. Just stopped being accused by Malwarebytes antivirus.
At the end of the day, we have an efficient performance against pests.
installing the app
It is very easy to start using Malwarebytes antivirus . For example, if you go to the official website, you don't need to hand over any personal information to download the free version. Install Malwarebytes antivirus in the full version with 14 days of free, you do not need to provide payment details. All very easy and convenient for you to experience.
Remembering that Malwarebytes antivirus is good , you need to go to the official website and download the application. Just follow the step-by-step instructions on the website and everything will be fine. Both experienced and novice users will have no problem accessing Malwarebytes antivirus for the first time.
Antivirus with built-in VPN
Malwarebytes antivirus works in its most complete plan with a VPN, which makes the cost x benefit even greater. And we're not talking about half-assed VPN. Malwarebytes antivirus is good even in this choice.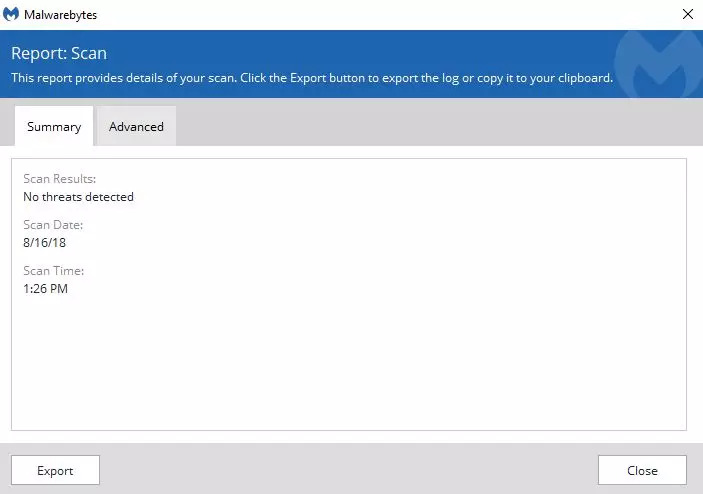 We are talking about a VPN with more than 300 servers spread over 30 countries – more robust than the one offered by Norton. And yes, I was able to unblock US Netflix and Hulu. Consider this a huge bonus. A negative point was the bandwidth usage of this VPN. It was one of the heaviest I've ever used, using more than 50% of my bandwidth. For that reason, despite it being able to unblock American Netflix, I suggest it even for those who just want privacy and not much for leisure.
If you've been walking around here, you certainly know what a VPN is. If you don't know, be sure to read our article on what a VPN is.
Compatibility
This is a great area to find out if Malwarebytes antivirus is any good. There's nothing better than seeing the app's availability on different platforms. Lucky for us, Malwarebytes antivirus embraces the most common systems on the market – including mobile systems.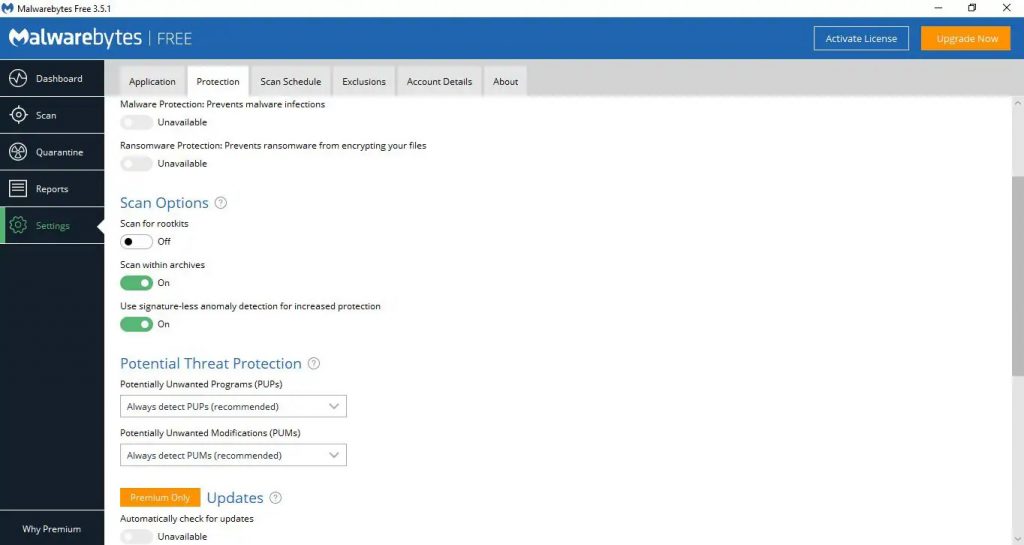 You can use the program on Windows, Mac, Android and Chromebook and iOS. If you missed a device, don't worry, it is also compatible with Chrome and Firefox browsers as a plugin. So you'll be well protected no matter what device.
customer service
Here I personally question whether the app works as expected. For the price they charge, some point should err on the side of quality. Not that the service is bad, but check it out:
If you have a problem, you are forwarded to a page to write your problem. Answers will be given, but it's like doing any survey. There is an interesting tool that works as a problem SCAN. You call and she looks for trouble and tries to fix it for you. I found it very useful. The " Malwarebytes antivirus is good " appears in the details.
Finally, if you want to interact with a human, you need to fill out a form describing your problem and wait for a response. There is no live chat.
Has my problem been resolved? It was, however, not as smooth as I would have liked.
Malwarebytes Antivirus and Rivals
Choosing an antivirus ends up framing a number of important factors. However, there are a few that I like to consider: complexity, effectiveness and price. Malwarebytes vs Kaspersky, Malwarebytes vs Avast, Malwarebytes vs Windows defender, Malwarebytes vs Bitdefender or even Malwarebytes vs Spybot all need to be taken into account.
Price: When we talk about Malwarebytes antivirus, we are looking at software capable of offering us a great product at a competitive price. Am I saying it's cheap? Not. However, I would like to remind you what value we have here when we compare it to the competition. Malwarebytes antivirus is good, it manages to offer a very good service for the price, whether we are looking for viruses, VPN or browser protection.
Complexity: for those who have been using antivirus for a long time, just go back a little in memory to imagine how it used to be, with really difficult programs to use at the time we just wanted to find the "start scan" button. One important thing that Malwarebytes antivirus is good at and embraces is simplicity in the eyes of the user. It's not as robust as other programs, but it manages to be efficient where it really matters.
Effectiveness: Let's remember that when using an antivirus, we want to be free of pests, free of problems and keep ourselves safe. Everything's good. The question when we think about effectiveness is whether the program is really capable of guaranteeing this. Even with less frequent updates, Malwarebytes antivirus is good and was able to keep me safe during my tests. Even when I simulated contact with malicious files. What we have here is a lean and efficient tool to keep you protected.
Common questions
Malwarebytes what is it? How it works?
What we have here is an antivirus that works based on a signature list of known pests. When something inside your machine matches the list, the alert is given. It sets it apart; is that Malwarebytes antivirus is good and manages to go a little further.
It does this by bringing a series of built-in tools that help to elevate your protective power. Whether through the included VPN or even the Browser Guard, which protects your devices.
Malwarebytes how to use?
Installing Malwarebytes antivirus is like using any other program on your device. In the case of computers, just go to the official website and install normally. If you are going to use it on a mobile device, what changes is the process. Just go to the official website or even app stores and install it.
What is Malwarebytes for?
What we have is software like other internet pest protection software. In times when our lives are fully online, it is essential that we use something to protect ourselves. The great asset of Malwarebytes antivirus is how it is done, since in addition to the antivirus program itself, we have a quality VPN here and also Browser Guard, a tool that prevents your device from being monitored.
Malwarebytes Antivirus Is Good And Worth It: Conclusion
In the end, is Malwarebytes antivirus really good and worth the recommendation? Yes, I can say yes. When we think about the price we pay and what it offers, it is a good option. This is software that has improved a lot over the years, both in performance and in pest detection. When we think about the whole thing, the only negative point we can really find is the customer support. Having direct contact only via email can be bad for some.
But on the bright side, Malwarebytes antivirus is good and is even better when used with a VPN. It's like uniting the best of both worlds, as we guarantee protection against pests and keep our internet protected against intrusion and data loss. It's a nice package.
I believe everything you needed to know about Malwarebytes antivirus is here. This will prevent you from going around looking for terms like "malwarebytes vpn", "malwarebytes price", "malwarebytes is antivirus", "malwarebytes buy", "malwarebytes works" or "even "malwarebytes brasil".