It is good? Worth to buy? What do people think about this? Pros and cons! Review 2022.
What is AVG Antivirus Pro?
Almost all of us have smartphones. Even babies know how to use a smartphone! But since we use our smartphones practically every day, we run the risk of catching a virus. Viruses are not a new thing, they have just evolved over time and consumed more and more devices. They started with computers and now they are also threatening cell phones. If you always download files from the Internet and connect your smartphone to your computer, then you are taking a risk!
Fortunately, you no longer have to throw your phone away if it catches a virus. Thanks to applications like AVG Antivirus Pro, your phone can be protected! This antivirus app has already saved over 100 million devices worldwide! In addition, there are many other features that this app offers to protect your privacy, such as app blocking, a VPN service, a photo vault, and more! Keep reading to find out more.
AVG Antivirus Pro features
AVG Antivirus Pro is a popular antivirus application that gives your device full protection from malware and viruses. These are its features:
Protection – The main function that AVG Antivirus Pro offers is antivirus protection. This app scans other apps, games and files and then deletes malware from your phone in one tap! You can also scan websites to detect any threat or malicious attempt to break into your cell phone. In addition, you can use Wi-Fi analyzer to check network encryption, password strength and Captive Portal. There are many things this app can do to protect your phone from malware!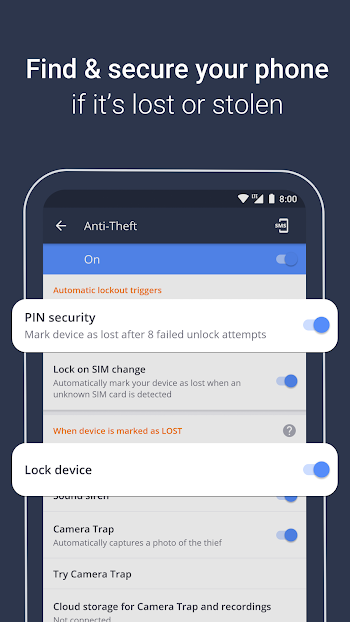 Performance – AVG Antivirus Pro also allows you to improve your device's performance by eliminating tasks and processes that are slowing you down. You can also extend your battery life thanks to the Power Saver feature that automatically shuts down heavy applications. Then you can also delete unnecessary files to save storage space for more important files. Finally, you can check the Wi-Fi download and upload speed directly from the app!
Anti-Theft Protection – AVG Antivirus Pro also provides functionality to locate your lost or stolen phone via Google Maps. But for even more protection, you can set up a lock screen. You can also add an alarm on your mobile. Then you can configure Theftie, which allows you to take a picture of anyone who tries to get their hands on your device without permission. In addition, there are also other features such as Application Blocking, Surveillance Agent and Remote History. All these features allow you to protect your phone completely.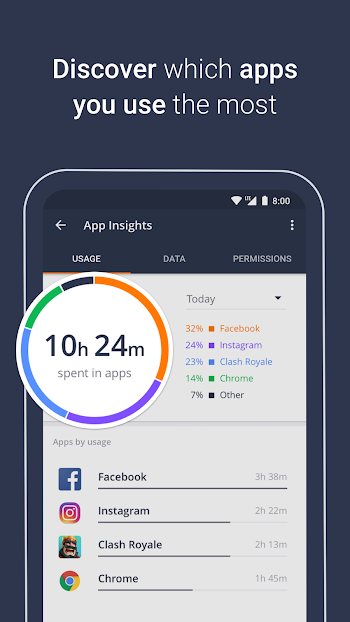 Privacy – In terms of privacy, AVG Antivirus Pro also allows you to hide your photos in a password-protected vault. In addition, you can also access the App Lock feature to lock your apps. There is also a VPN service available in the app.
Application Statistics – AVG Antivirus Pro also allows you to easily access application statistics. You can view the app usage tracker, monitor how you spend your time, see how your data is being used and discover potential privacy flaws.
Download AVG Antivirus Pro – Latest Version
AVG Antivirus Pro is a revolutionary antivirus app that does more than just protect your device from malware! Download the latest version now to access all its features!
Alternatives